Lifting Supervisor Course
The Lifting Supervisor is responsible for overseeing the set-up, maintenance and safe and efficient operations of the lifting equipment. He is responsible for co-ordinating and supervising all lifting activities in accordance with regulations and is required to be present during all lifting operations.
| Courses | Duration | Participants | Language |
| --- | --- | --- | --- |
Target Group
Experienced Stage 3 Offshore Crane Operator's, Deck Foreman's, Deck Supervisor's,, Chief Officer's.
Course content
Essential Principles for Lifting & Hoisting Operation
Planning
Lift Categorization
Control
Competence
Lifting equipment Inspection,
Maintenance and Certification
Anti heeling system/Load Moment Control Personnel Lift Offshore
Subsea operation's
HASAWA/LOLER/PUWER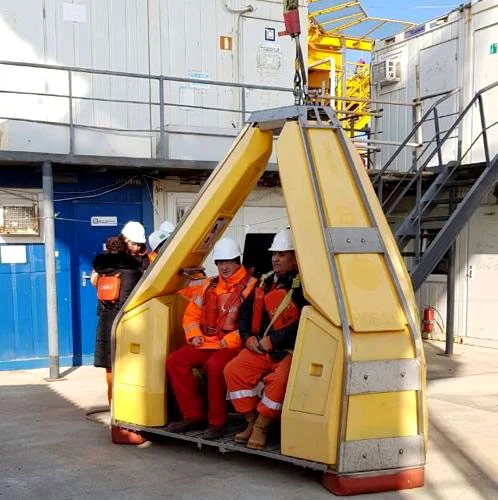 The objective
Participants should demonstrate their strong knowledge of the current lifting operation regulations, Codes of Practice and industrial requirements.
Admission Reqirements
Experienced Stage 3 Offshore Crane Operators/Deck Foreman's/Deck Supervisor's/Senior Officer's should have sufficient experience of cranes to meet the requirements specified in British standard 7121 Safe Use of Cranes.
Good understanding of spoken and written English
Assessment
Theoretical and practical assessment (incl. Subsea Lifting Operations simulation)
Course reviews
International centre with high level of training.

International centre with high level of training.
The worthy price for essential knowledge

To start with, I would like to note that I has highly deepen my knowledge regarding lifting operations during this course at Lerus center. Obviously, it was my aim. Instructor Andriy conducted over the course perfectly, and paid high attention to every detail, especially for the practical assessment. In my opinion, I paid the relevant price for the high standard of mentioned course, acquired essential practical skills and new career opportunities.
Helpful course

Instructor was both friendly and high-experienced. He provided all the content in an understandable way hence I definetely sure that I am to perform duties safely. To my mind having training like this is the way to success.