Sea Survival (SS) Module - GWO Training
The aims of this module are, by theoretical and practical training, to give the participants the ability to act safely and responsibly, and to take the correct preventive actions in all aspects of offshore operations from shore to installation vessel or WTG and vice
| Courses | Duration | Participants | Language |
| --- | --- | --- | --- |
Target Audience
Personnel who will be working in the wind industry or related fields and will have their duties in a wind turbine environment, usually in physical contact with a wind turbine or an offshore wind structure.
Personnel that perform job functions that have been risk assessed by their employer or their workplace duty holder as a function, where training according to one or more modules of the BST standard may mitigate of the identified risks.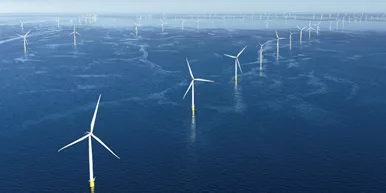 Prerequisites
All personnel participating in this training shall be medically fit and capable of fully participating. Participants' signatures testifying to their medical fitness will be collected prior to the start of the module. Furthermore, participants shall have created a personal participant profile in WINDA and provide their own WINDA ID prior to completing the BST training.
Persons attending Sea Survival module must have valid GWO Working at Heights certificate.
For more details about course prerequisites please contact our administration desk.
Module Content
Safety culture and legacy
Cold water immersion
Lifesaving appliances and PPE
SAR and GMDSS
Practical sea survival
Safe travel and transfer (theory)
Installations, vessels and WTGs
Transfer practical

Certificate Validity
2 years
Frequently asked questions:
After completing the training, will participants receive a certification from the Global Wind Organisation?
What is the primary focus of the Sea Survival (SS) Module - GWO Training offered by Lerus?
With Lerus offering training across various countries, what sets its GWO Training apart in terms of quality and standards?
Course reviews
Essential skills

During this course I realized the necessity to be responsible and perform duties in the safest way, also acquired essential skills to prevent dangerous issues from shore to installation vessels due to various hazards which may appear on the way.
Amazing training

This course seemed great to me. Good quality of provided content and competent instructor worth good recommendations.
5

Great management team, professional instructors and excellent course organisation. Well Done
Super

I completed this course and I'd like to assure everyone that Lerus provides trainings on the highest leel of service and education. Cousre programm completelly suits GWO standards, and instructor was both friendly and professinal.
Positive

The GWO Sea Survival (SS) Training conducted at the Lerus Training Centre proved to be an exceptional and valuable experience. Under the guidance of proficient instructors, I gained crucial survival skills and developed a strong sense of confidence in managing unforeseen emergencies in a marine setting. The training facilities were contemporary and conducive to an immersive learning atmosphere, allowing us to engage in practical scenarios that closely replicated real-life challenges at sea. The instructors' unwavering commitment and supportive approach created a dynamic learning environment, ensuring a comprehensive grasp of essential survival techniques. Overall, the program exceeded my expectations, leaving me well-prepared and self-assured in my ability to handle any sea-related crisis. I highly recommend this comprehensive SS training to anyone seeking a practical and empowering learning experience in marine survival.
Good practice and theory

Good practice and theory
Everything is good

Everything is good
all good

very good instructor
Excellent

All good keep this atmosphere always barvo lerus...
SS

Good Place to do training