Manual Handling Refresher (MHR) Module - GWO Training
The aim of this Module is to allow participants to refresh their positive Manual Handling and ergonomic behavior, encourage participants to consider alternatives to manual handling through planning and to train participants' ability to perform Manual Handling tasks in a safe manner in the wind turbine industry/environment.
| Courses | Duration | Participants | Language |
| --- | --- | --- | --- |
Target Audience
Personnel who will be working in the wind industry or related fields and will have their duties in a wind turbine environment, usually in physical contact with a wind turbine or an offshore wind structure.
Personnel that perform job functions that have been risk assessed by their employer or their workplace duty holder as a function, where training according to one or more modules of the BST standard may mitigate of the identified risks.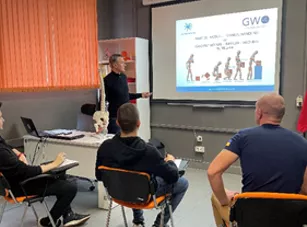 Prerequisites
All personnel participating in this training shall be medically fit and capable of fully participating. Participants' signatures testifying to their medical fitness will be collected prior to the start of the module. Delegates shall possess valid BST/ BSTR certificates or training records in WINDA for the relevant Modules prior to attending BSTR training. The Delegates shall also have a personal Delegate profile in WINDA and provide their own WINDA ID prior to completing the BSTR training.

For more details about course prerequisites please contact our administration desk.
Module Content
Legislation and behavioral safety
Spinal anatomy and posture
Planning manual handling
Measures to prevent injury
Risk controls and proper manual handling techniques
Certificate Validity
2 years
Frequently asked questions:
After completing the training, will participants receive a certification from the Global Wind Organisation?
What is the primary focus of the Manual Handling Refresher (MHR) Module - GWO Training offered by Lerus?
With Lerus offering training across various countries, what sets their GWO Training apart in terms of quality and standards?
Course reviews
Good center and service

A very good center with suitable location and well-equipped facility. Experienced instructors will provide you with all necessary information. Delicious coffee and snacks are also available.
Overall are good

Definitely will be back for another training. The tutor explain the subject very clearly and attractive.
Good

Good lesson for more knowledge
EXCELLENT

KEEP DO THE BEST
Very good

Good SERVICE and good explaint how to explaint gwo trinee.
Excellent

Penyampaian yg tegas dan jelas dg praktek sehingga memudahkan siswa untuk memahami.
Excellent

Tempatnya sangat nyaman, rapih, bersih. Instrukturnya friendly banget, penyampaian nya berkelas dan jelas. Jadi ga jenuh belajar dikelas. Semoga semakin maju dan sukses.
Excelent

Good comunication. Easy to understand. Nice place. Nice people.
Good

Sangat mengesankan, smoga kedepanya semakin jaya.
Nice

Good facilities and good instructor