Working At Heights Refresher (WAHR) Module - GWO Training
The aim of Working at Heights Refresher Module is to review and build on previously gained knowledge and skills through theoretical and practical training so that Delegates can use basic personal protective equipment and perform safe work at heights and safe and comprehensive basic rescue from heights in the wind turbine industry/ WTG environment.
| Courses | Duration | Participants | Language |
| --- | --- | --- | --- |
Target Audience
Personnel who will be working in the wind industry or related fields and will have their duties in a wind turbine environment, usually in physical contact with a wind turbine or an offshore wind structure.
Personnel that perform job functions that have been risk assessed by their employer or their workplace duty holder as a function, where training according to one or more modules of the BST standard may mitigate of the identified risks.


Prerequisites
All personnel participating in this training shall be medically fit and capable of fully participating. Participants' signatures testifying to their medical fitness will be collected prior to the start of the module. Delegates shall possess valid BST/ BSTR certificates or training records in WINDA for the relevant Modules prior to attending BSTR training. The Delegates shall also have a personal Delegate profile in WINDA and provide their own WINDA ID prior to completing the BSTR training.

For more details about course prerequisites please contact our administration desk.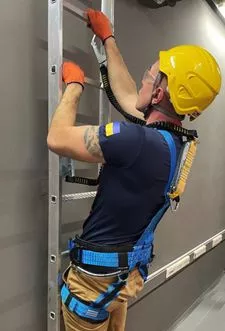 Module Content
Knowledge review
PPE Review exercises
Theory
Individual practical review exercises
Group practical exercises

Certificate Validity
2 years
Frequently asked questions:
After completing the training, will participants receive a certification from the Global Wind Organisation?
What is the main objective of the "Working At Heights Refresher (WAHR) Module - GWO Training" offered by Lerus?
With Lerus offering training across various countries, what sets their GWO Training apart?
Course reviews
5 stars

Perfect course and training center. I managed to refresh my certificate in shortest time, my thanks to administrators for this. Besides, well equipped facility with experienced instructor Andriy made the full process very comfortable and educational. Thanks.