Working At Heights (WAH) Module - GWO Training
The aim of this module is to qualify the participants, through theoretical and practical training, to use basic personal protective equipment and perform safe work at height and safe and comprehensive basic rescue from height in a remote wind turbine environment.
| Courses | Duration | Participants | Language |
| --- | --- | --- | --- |
Target Audience
Personnel who will be working in the wind industry or related fields and will have their duties in a wind turbine environment, usually in physical contact with a wind turbine or an offshore wind structure.
Personnel that perform job functions that have been risk assessed by their employer or their workplace duty holder as a function, where training according to one or more modules of the BST standard may mitigate of the identified risks.
Prerequisites
All personnel participating in this training shall be medically fit and capable of fully participating. Participants' signatures testifying to their medical fitness will be collected prior to the start of the module. Furthermore, participants shall have created a personal participant profile in WINDA and provide their own WINDA ID prior to completing the BST training.

For more details about course prerequisites please contact our administration desk.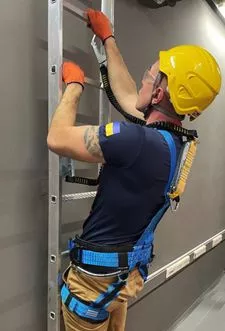 Module Content
Legislation
Harness
Fall prevention
Vertical fall arrest systems
Fall arrest lanyards
Dropped objects
Self-retracting lifelines
Practical exercises
Emergency procedures
PPE review
Rescue devices and rigging setup
Rescue exercises
Certificate Validity
2 years
Frequently asked questions:
After completing the training, will participants receive a certification from the Global Wind Organisation?
What is the primary focus of the "Working At Heights (WAH) Module - GWO Training" offered by Lerus?
With Lerus offering GWO Training across various countries, what sets their training apart in terms of quality and standards?
Course reviews
Expert Instructor and well-prepared facility

I've passed this training some months ago. My company demanded it and GWO Sea Surival training ASAP. My sincerrely thanks to Lerus team who managed to arranged this course so quickly. MMr. Vitaliy is a real expert in his sphere, provide me with full amount of knowledge in an easy way. Also I received valuable practical skills. Thank you Lerus.
5

Absolutely excellent organised course.
Positive

GWO Working At Heights (WAH) Training at Lerus Training Centre was a pleasant experience. The course, led by experienced instructors, provided crucial insights and techniques for safe practices when working at elevated levels. The training facilities were modern and conducive to practical learning, offering simulated scenarios that enhanced real-world understanding. The instructors' dedication and supportive approach fostered a conducive learning atmosphere, ensuring a comprehensive grasp of safety protocols. Overall, the program exceeded expectations, leaving me feeling well-prepared and confident in my ability to work safely at heights. Highly recommended for comprehensive WAH training.
Everything is good

Everything is good
All good and excellent tim leader.

Please keep this atmosphere for the next delegates, cause for me this is excellent pleaces for course, thanks so much.
Awesome

Awesome, instructor and materials training met the expectation. Recommended.
WAH

Good Place to do Training
Excellent

Good Time arrangement Good housekeeping Good instructor Good coffee Need more toilet/changing room.
Excellent

Nice place Nice service Need more toilet for delegate
excellent

everything is good!