Manual Handling (MH) Module - GWO Training
The aim of this Module is to encourage positive Manual Handling and ergonomic behaviour, encourage participants to consider alternatives to manual handling through planning and to train participants' ability to perform Manual Handling tasks in a safe manner in the wind turbine industry/environment.
| Courses | Duration | Participants | Language |
| --- | --- | --- | --- |
Target Audience
Personnel who will be working in the wind industry or related fields and will have their duties in a wind turbine environment, usually in physical contact with a wind turbine or an offshore wind structure.
Personnel that perform job functions that have been risk assessed by their employer or their workplace duty holder as a function, where training according to one or more modules of the BST standard may mitigate of the identified risks.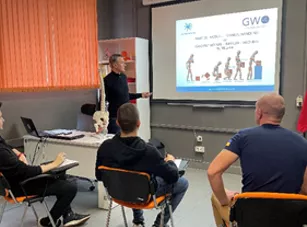 Prerequisites
All personnel participating in this training shall be medically fit and capable of fully participating. Participants' signatures testifying to their medical fitness will be collected prior to the start of the module. Furthermore, participants shall have created a personal participant profile in WINDA and provide their own WINDA ID prior to completing the BST training.

For more details about course prerequisites please contact our administration desk.
Module Content
Legislation and behavioral safety
Spinal anatomy and posture
Planning manual handling
Measures to prevent injury
Risk controls and proper manual handling techniques

Certificate Validity
2 years
Frequently asked questions:
After completing the training, will participants receive a certification from the Global Wind Organisation?
What is the primary focus of the Manual Handling (MH) Module - GWO Training offered by Lerus?
With Lerus offering training across various countries, what makes its GWO Training stand out?
Course reviews
Interesting and informative course

My thanks to Lerus for such informative course! I gained so much new information and valuable practice experience. Surely recommend your training center to otherі.
Thanks for course

I required GWO MH certificate ASAP and Lerus managed to arranged it asap. Thank you. I received both highest service and valuable knowledge to perform my duties perfect.
Positive

GWO Manual Handling (MH) Training at Lerus Training Centre was a superb experience. The course, led by knowledgeable instructors, imparted crucial techniques for safe manual handling practices, enhancing my confidence in workplace safety. The training facilities were modern and conducive to hands-on learning, fostering a comprehensive understanding of proper handling methods. The instructors' dedication and supportive approach created an enriching atmosphere, ensuring a valuable learning journey. Overall, the program exceeded expectations, leaving me equipped and empowered with essential manual handling skills. Highly recommended for comprehensive MH training.
Very Good

All nice , very good instructor. Good place. Good class. Good hospitality. Food and coffee meal is a very nice
Over all good course and training

Good Training and course for us.
Exelent

All good intstructur no one...
Great teaching methode.

Active instructor Friendly and easy understanding teaching style. Keep it great Lerus.!!
All good easy to understand

Everything was good .
very good

everiting good good job
Good Training and Important

Good to have knowledge about manual handling training to get prover task when doing manual handling job.