Who is Dynamic Positioning Operator (DPO)?
DPO is a person who in charge of control with Dynamic Positioning System. The purpose of this System is automatically maintain a vessel's position and heading by using its own propellers and thrusters. As you know this is very complex task because DP System need to combine position reference sensors, wind sensors, motion sensors to calculate the impact of environmental forces that affect to vessels position.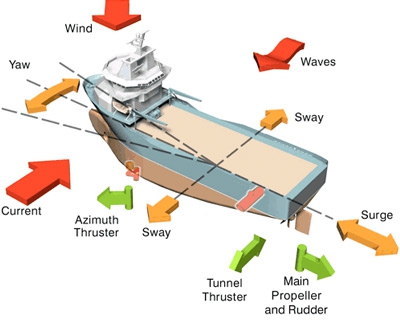 DP Systems are vital for safety operations such as deep water drilling (Drillships, Mobile Offshore Drilling Units), anchor handling (Anchor handling tug supply vessel operation for anchoring of non-DP MODU), supply for oil rigs and platforms (entry to the 500m safety zone of offshore installation), subsea construction, ROV Support etc. This is a safe, fast and reliable tool to perform daily offshore operations.
This system was created in the 1960s to meet the demands of the Oil & Gas Industry. This system allowed offshore drilling units to operate in deeper waters, creating new fields – new wells – new profits for the Oil & Gas companies.

Position keeping options: anchoring, jack-up, dynamic positioning
There are several position keeping options: jack-up, anchoring and dynamic positioning. The latter has many advantages, such as excellent maneuverability, no additional vessels required to work with anchors, able to operate at any water depth, quick set-up, not limited by an obstructed seabed. There are however some disadvantages: high costs for initial installation, fuel and maintenance costs. The biggest problem of all: system could be running off position by system failures. To understand the basic risks to vessels loss of position, review the following examples:
Divers are completely dependent on a vessel whilst working underwater, but should it lose its position, the consequences could be fatal.
The loss of a vessel's position near an oil rig could cause a collision and result in fatalities.
The loss of a Drillship's position could cause uncontrolled oil spills and possibly create serious environmental problems.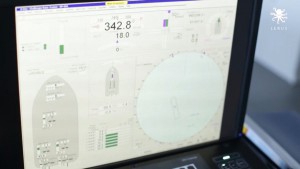 The loss of position may cause financial, environment, health and safety risks. That is why only highly qualified personnel can control DP Systems. The DPO has competence to use DP Systems in manual and automatic modes without supervision.
The Nautical Institute created a special training scheme for achieving safety standards for DPOs in the offshore Oil & Gas Industry. This scheme defines the basic stages of professional training for future DPOs. There are three main blocks – practice on board a DP vessel, theoretical sessions and simulator training at special training centres.
The DP "UNLIMITED" certificate will be issued after the successful completion of all phases of the training scheme. This certificate confirms the competence of an operator and allows him to work on DP Systems without supervision. You can find more information about new and old training schemes, just follow the next link:
The Nautical Institute old and new training scheme
You need to understand that complex DP operations differ significantly on various types of offshore vessels. For example, if you complete a training scheme with experience only on board an Anchor Handling Tug Supply vessel, you cannot work as a DPO on board a Diving Support Vessel during subsea construction operation without supervision and further training.
Please follow the next links to find out more information about training courses, fees, terms of training and schedule: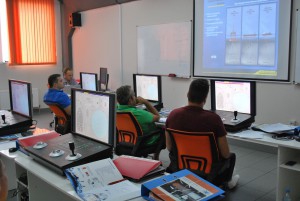 DP Basic / Induction course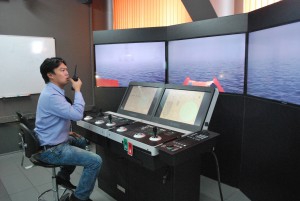 DP Advanced / Simulator course